Burgundy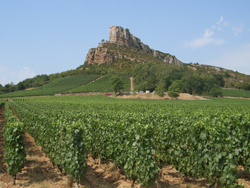 The first thing that Burgundy evokes for most people is the wine, or rather the wines, because there is a wealth of different types. The picturesque town of Chablis – source of some wonderful whites – is just a little to the south of Joigny and provides a memorable destination for an afternoon, with ample tasting opportunities.
A bit further south is the rather larger town of Beaune, which with some justification likes to consider itself the capital of Burgundy wines. Local names such as Nuits-Saint-Georges, Pommard and Meursault conjure up magnificent reds, but still further south (Burgundy is a large region!) you return to the lovely whites of Pouilly-Fuissé and then you're on the edge of Beaujolais.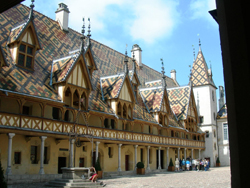 Thanks largely to the heritage of wine, Burgundy has been a rich region and its wealth is reflected in its architecture, whether in the spectacular multicoloured tiles of the Hospices de Beaune or in the churches and cathedrals. And as if it did not already have enough castles, a replica is being built at Guédelon with traditional methods and materials – fascinating to visit. It has also a well-deserved reputation for good food, ranging from the menus du jour of village cafés to the menus gastronomiques of the many restaurants, based on excellent local ingredients and expertise developed over generations.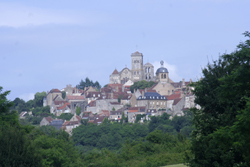 Religion has also played a notable part in its history. The Cistercians originated at Citeaux, springing from the major abbey of Cluny which in its time was the centre of an empire of 1,200 monasteries. And the hill-top town and monastery of Vézelay, the starting point for thousands of pilgrimages on their way to Santiago de Campostela in Spain, is nowadays classed as World Heritage site. Near to Cluny, Taizé is today a sacred place for many Christians, with a special appeal to younger people.
The countryside is very varied, thanks to the rivers and hills (we'd call them mountains if they were in England), the vineyards and the forests. Much of it is within easy reach of Joigny.